Shop
Shop » Cuticle Cream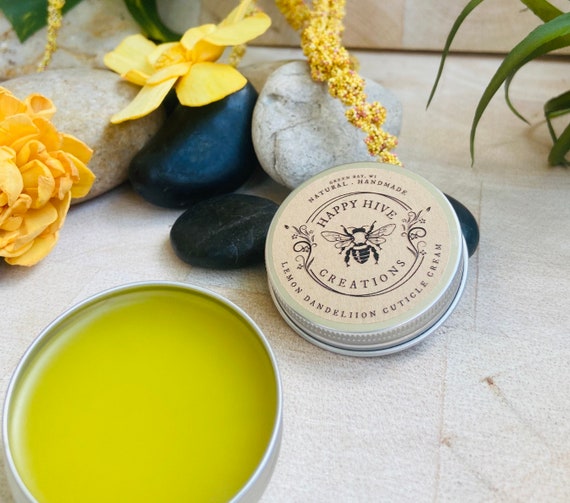 Cuticle Cream - Cuticle Oil - Nail Oil - Cuticle Balm - All natural - Citrus Cuticle Cream - Natural Nail Care - Cuticle Treatment
Buy on Etsy
Description
Citrus Cuticle Cream hydrates and conditions cracked and damaged cuticles and dry skin. Made with the finest organic all natural butters and oils this cuticle cream is designed to be super moisturizing and conditioning helping repair damage and promote nail growth. The cuticle cream is infused with a combination of citrus essential oils which helps gives this cream a crisp fresh scent.

How To Use: A little goes a long way! Massage small amount of the cream into the cuticles and nail beds.

Ingredients: Beeswax, Coconut Oil, Shea Butter, Vitamin E Oil, Essential Oil Blend

Order placed is for one tin of Citrus Cuticle Balm, net weight 1 ounce.

Made in Small Batches:
This item is made in small batches to ensure maximum freshness. It is stored away from direct sunlight and in a cool, dry area when not in use.

Heat Warning:
This item is heat sensitive and may soften with prolonged heat exposure greater than 75 degrees. Don't worry product can be cooled back to it's original state by placing it in a cool area.

Skin Care Warning:
Please review the ingredient list and ensure there are no allergies. I recommend doing a spot test with any new skin care product. This is best done by applying a small amount of product to a discrete area and waiting approximately 24 hours to determine if your skin has any sensitivities to the ingredients. If any redness or irritation occurs, discontinue use immediately.

None of the information provided is intended to make any medical claims, diagnose, treat, cure any physical or mental condition, nor to prescribe any substance, or prevent any disease. Nor is any of the information intended as a substitute for the advice and treatment by your health professional or other competent counsel. None of the products offered have been evaluated by the FDA.

A Few Words From Happy Hive Creative:
I truly believe in making quality products that you will enjoy using. I take pride in our products and with that being said if for any reason you are dissatisfied please let me know and I will do my best to correct the situation.