Shop
Shop » Beard Wash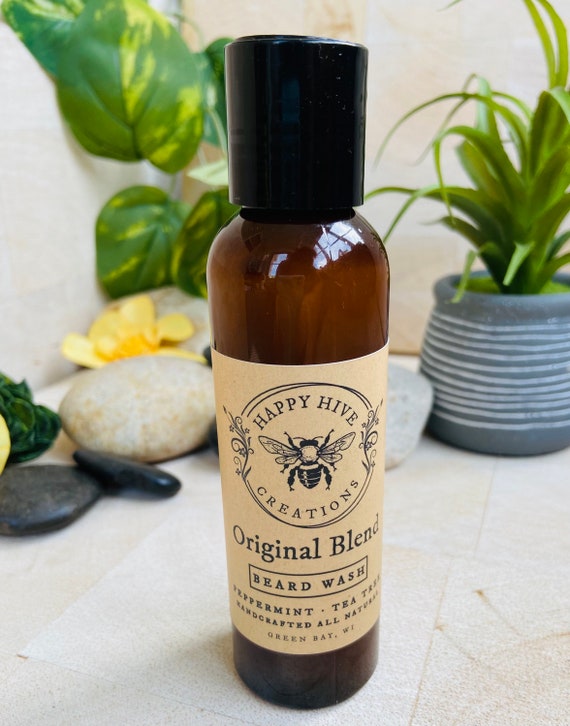 Beard Wash - Original Scent - Tea Tree & Peppermint - Cold Pressed Oils - All natural - Conditioning Beard Care- Father's Day Gift
Buy on Etsy
Description
Made from a blend of cold-pressed oils and a vegetable-based soap this beard wash is a great addition to the daily grooming of your well-kept beard. The essential oil blend of Peppermint and Tea Tree invigorates your senses and refreshes your skin leaving your beard and face clean and fresh.

This beard wash is handcrafted and specially formulated to hydrate and moisturize the skin underneath your beard. It is formulated to reduce split ends and encourage beard growth for a polished, healthy looking beard. Daily use encourages beard growth by increasing the strength of the hair, reduces itchiness and dandruff and conditions and softens facial hair.

The wash is made from easy to recognize ingredients: Water, Organic Coconut Oil, Organic Palm Kernel Oil, Organic Olive Oil, Organic Hemp Oil, Organic Jojoba Oil, and a blend of essential oils. Most imprtantly Happy Hive Creations Beard Wash is Sulfate and Paraben free.

Directions: Wet facial hair with warm water. Cleanse beard with Happy Hive Beard Wash, towel dry. Apply your favorite Happy Hive Beard Oil, comb through and smooth on Happy Hive Beard Balm to set (sold seperately and available here- https://www.etsy.com/listing/873071726/beard-oil-and-beard-balm-combo-kit-pick?ref=listings_manager_grid ).

Storage and Expiration: If stored in a cool, dry area away from direct sunlight (you bathroom cabinet is perfect) this product can last up to three years without spoiling. Storing your beard oil in direct sunlight can cause the oil to spoil sooner.

Order placed is for one bottle of beard wash, 4 ounces.

Made in Small Batches:
This item is made in small batches to ensure maximum freshness. It is stored away from direct sunlight and in a cool, dry area when not in use.

Skin Care Warning:
Please review the ingredient list and ensure there are no allergies. I recommend doing a spot test with any new skin care product. This is best done by applying a small amount of product to a discrete area and waiting approximately 24 hours to determine if your skin has any sensitivities to the ingredients. If any redness or irritation occurs, discontinue use immediately.

A Few Words From Happy Hive Creative:
We truly believe in making quality products that you will enjoy using. We are a small family based business based out of Green Bay, WI. We strive to make the best products with the best ingredients to keep you coming back for more. All our products are hand poured and hand made from small batches to keep everything fresh for your benefit. We take pride in our products and with that being said if for any reason you are dissatisfied please let me know and I will do my best to correct the situation.