Shop
Shop » Paw Balm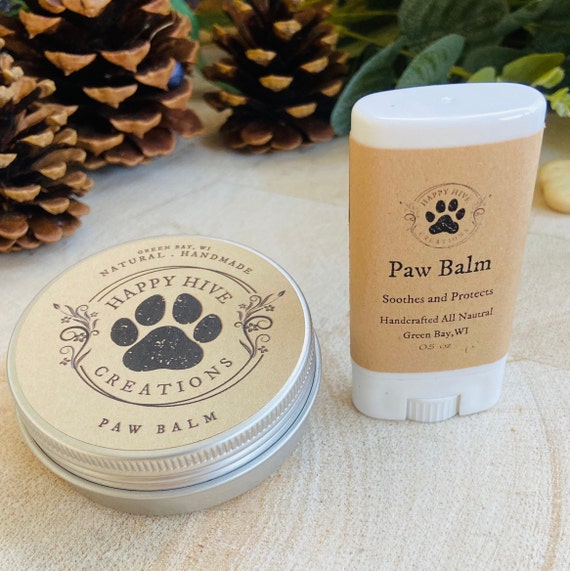 Paw Balm - All natural ingredients - Happy Hive Pet Care - Homeopathic - Beeswax & Lavender Paw Wax - Paw Protector - Conditioning Paw Care
Buy on Etsy
Description
Comfort your sweet fur baby's dry cracked paws with some all natural paw balm. Made with 100% natural pet safe ingredients! Have Hive Creations Paw Balm is made with Calendula infused olive oil, beeswax, shea Butter, coconut oil and lavender essential oil. All of these ingredients were selected to be safe and even beneficial for you dogs health. We choose to use calendula oil in our paw balm because it is pet safe, seals and soothes cracked skin because of it's anti-inflammatory properties. It is even safe enough for your pets to lick their paws after application. Coconut oil and beeswax are used for their great antibacterial properties and finally lavender oil because of it's excellent ability to soothe itchy, irritated skin.

This salve is great for healing dry, cracked paws during cold, dry winter months, and can even provide protection to tender toes from hot sidewalks during the warm summer months. This balm can be used for dry cracked paws, callouses and dry noses and is even kitty safe too! A great gift for your special fur baby or for new fur parents wanting effective natural pet care.
To use simply take a little from the tin to soften with your fingers and gently rub on your pets driest parts. Be sure to use at least 1-2 times weekly for best results. Great for preventing dry, cracked paws as well, just apply to paws prior to walks.

Ingredients: Calendula Infused Olive Oil, Shea Butter, Coconut Oil, Beeswax, Vitamin E Oil, Lavender Essential Oil

Order placed is for one-
Tin of paw balm, net weight two ounces
-or-
Twist Tube of Paw Balm- net weight 0.5 ounces

Made in Small Batches:
This item is made in small batches to ensure maximum freshness. It is stored away from direct sunlight and in a cool, dry area when not in use.

Heat Warning:
This item is heat sensitive and may soften with prolonged heat exposure greater than 75 degrees. Don't worry product can be cooled back to it's original state by placing it in a cool area.

Skin Care Warning:
I recommend doing a spot test with any new skin care product. This is best done by applying a small amount of product and waiting approximately 24 hours to determine if your pet's skin has any sensitivities to the ingredients. If any redness or irritation occurs, discontinue use immediately.

A Few Words From Happy Hive Creative:
I truly believe in making quality products that you will enjoy using. I take pride in our products and with that being said if for any reason you are dissatisfied please let me know and I will do my best to correct the situation.